Download Festival 2019 - Day three
Last day at the Spiritual home of Rock…
By Sian Edwards.
It's the final day at Donington, so we decided to check-out a celebrity endorsed band to begin the day.
London based band Blurred Vision opened with a cool and refreshing twenty five minute set. Awesome vocals on their single 'Magdalena' by frontman Sepp Osley and their rendition of 'Another Brick in the Wall' really got the crowd moving and singing "Ayatollah leave those kids alone". Powerful stuff, the political undertones, of this Floyd classic, aimed at Sepp's native Iran, would surely receive Roger Water's nod. About as great a start to a Sunday session at Download as you could get!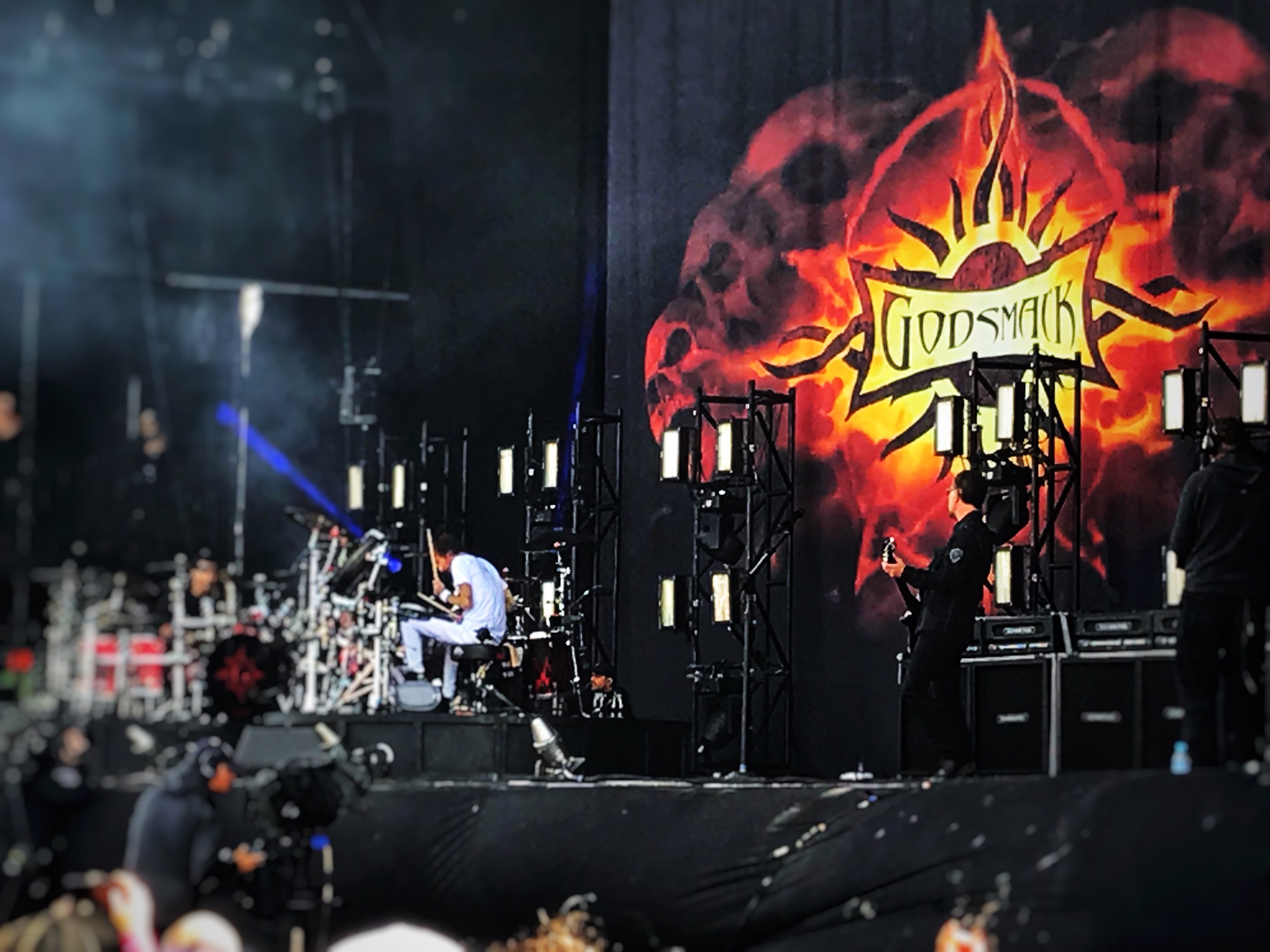 Owning the 2:30 slot: Godsmack. This band surely needs a later slot as these guys really know how to rock. They drew in unknowing Download campers with their amazing flavour of heavy hitting rock. However, one of their many highlights was the drum duo solo piece. Amazing spinning drum kits and famous drum covers/parts such as 'Walk this Way', 'Back in Black' and 'Enter Sandman' were absolutely brilliant.
What a performance, what a show. We were all left wanting more.
Rabea showing how it's done
Popular YouTube guitarist Rabea Massad, and his band Toska, hit the Dogtooth stage early Sunday afternoon with a cool three song set. 'Chalk Teeth' was a great choice for opening the set and loved by their fans. Toska seem to have a strong following perhaps due to their impressive technique. All the guitar fans were in awe of Rabea's command of his signature guitars. A longer set next time, please.
Billy Corgan delivering the goods
Over to the main stage to catch the Smashing Pumpkins. Unfortunately, the Chicago based band didn't 'wow' the crowd at the start as they were a little too slow for their taste. Nevertheless, the band managed to turn it around when frontman Billy Corgan picked up the beat and ran with 'Bullet with Butterfly Wings'. The amazing, colourful totems added to a stunning visual. And cool songs such as 'Disarm' and a Black Sabbath cover of 'Snowblind" were enhanced with an appearance on vocals from Myrkur's Amalie Bruun: beautiful stuff. All in all, a solid set from the Pumpkins.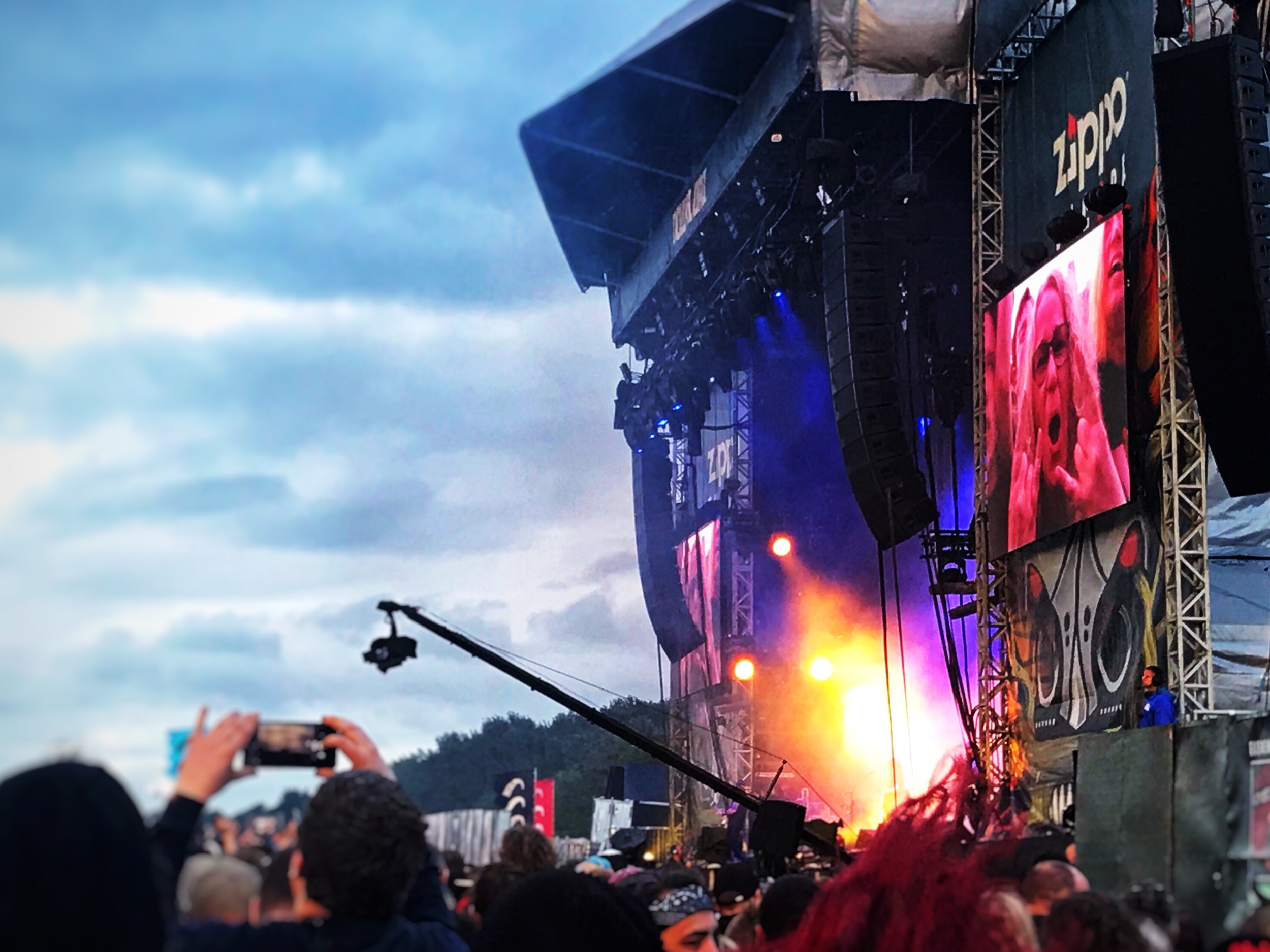 Goodbyes are always very hard, so we moved to the Encore stage to witness Slayer's final UK show.
As one of the big four, they've been around for a long time so it is hard to say goodbye to one of the most well known metal bands of all time. They kicked things off with 'Repentless' and delivered trash metal tunes, one after another, leaving the packed arena wanting more and more. By the time they played 'South of Heaven' and 'Raining Blood', we were finally rewarded with one of their best live sets ever. Living legends. Thank you and goodbye.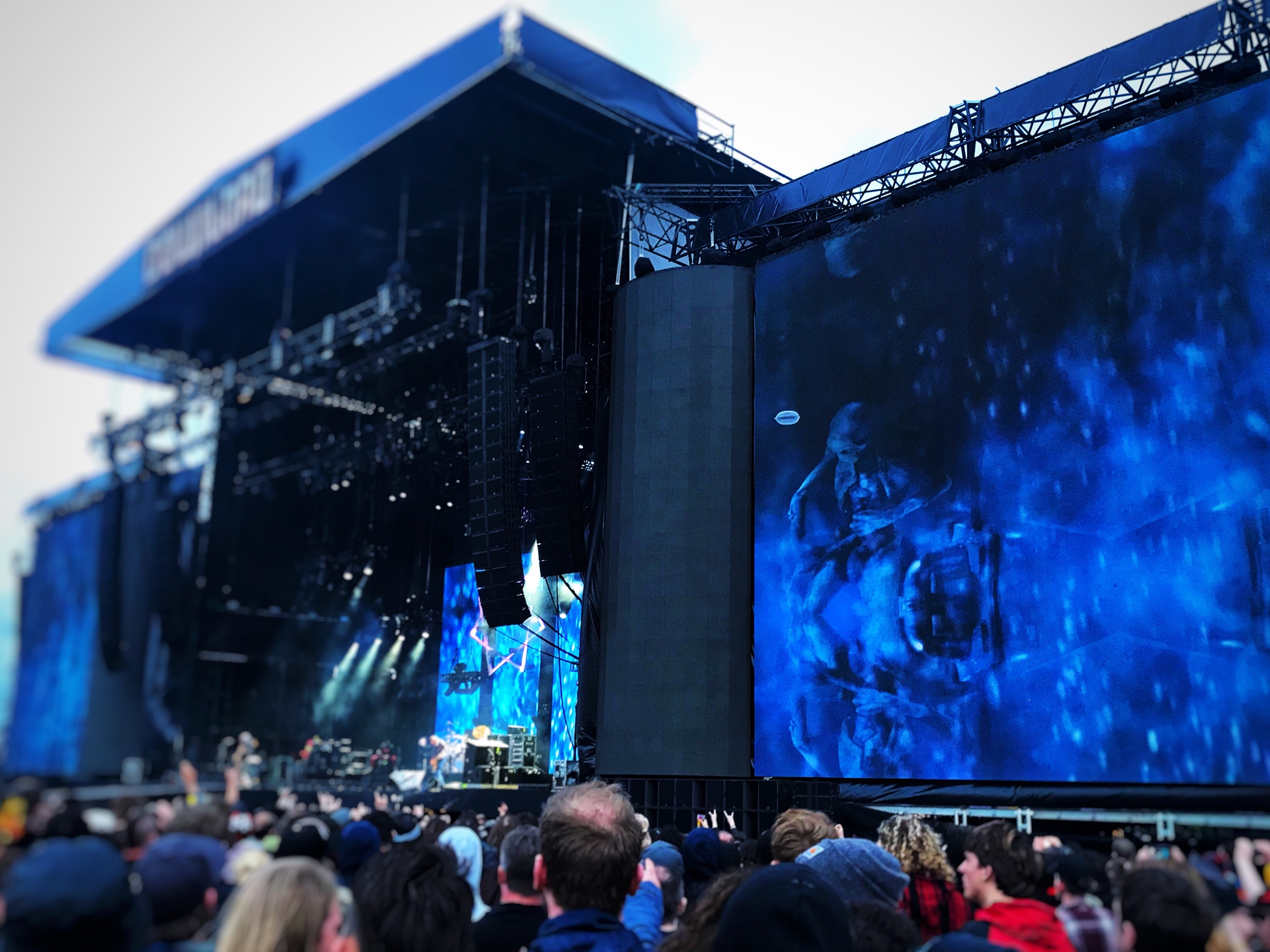 And to top it all ... Tool. The Sunday headliners were here last in 2006, so the excitement from the crowd was something out of a movie. Roars came from the arena as frontman Maynard James Keenan stood motionless with his Mohawk and sang tune after tune with raw emotion.
These guys are dark and mysterious and not leaving much to the imagination as the creepy graphics were out of this world. From their opening track 'Ænema' through to fan favourites 'Schism' and 'Jambi' to their last song 'Stinkfist', they had the crowd on their side. The imagery in sync with the musical delivery makes it more of a performance art show, there's not even one shot of the band on the screens. Thoughtful, majestic, ambitious, stunning ... The perfect send off from #DL2019. Onwards to the next one. Bring it over 2020. Can we book tickets yet?
Tool Download Festival 2019 Setlist
Third Eye Intro (recording)
Ænema
The Pot
Parabola
Descending
Schism
Invincible
Intolerance
Jambi
Forty Six & 2
(-) Ions (recording)
Stinkfist